Windows based diagnostic software for Volkswagen, Audi, Seat, Skoda vehicles.
For more than a decade of playing a leading role in the market for motor vehicles group VAG brand- diagnosis .
The Ross -Tech business policy in accordance with one free year of updates . To date, however, has not been any cost . The company reserves the right at any time to change that .
The M3 Auto Ltd VCDS HGJ the official Hungarian distributor . The translation of a program drawn up by Mr. Joseph Molnar . The most recent version of the current VCDS - downloadable version of HGJ www.vcds.hu side. The original American version of Uwe M. Ross develops . The latest English version can be downloaded from the following website : www.ross - tech.com
We, the M3 Auto Ltd. hungarian VCDS diagnostic suite official Hungarian distributor . The VCDS a PC-based automotive diagnostic software program that allows vehicles produced by the VAG group diagnosis . The VAG group in 1991 led to one of the first ISO - 9141 protocol and it has produced cars in electronic control units. The error code query , delete , and read the measured values ​​provides emergency assistance for car .
The latest version of VCDS diagnostic suite is a result of nearly five years of development . Respective most current version of the program from the internet for free download. The Hungarian version of the program works only on the interface bought from us ! Other international adapters purchased the program only works in DEMO mode ! The program interface supports the purchase of new vehicles for UDS diagnostic protocol , so the diagnosis of new motor vehicles is solved. (eg, new , published in 2009 Audi A4, A5 , A6, A8, Q5 , Q7 ) . The program recognizes all the protocols currently used by the VAG group .
[Local ] automatikus_hibakiolvasas.jpg [Local ] hibakodok_kezelese.jpg [Local ] masodik_lepes.jpg [Local ] obd_ii.jpg
The program two types of couplers adapter cable:
Basic Package : 209 500 , - instead of HUF 170,180 now in action , - Ft
( Includes tárolókoffert , diagnostic cable and the software on a USB key )
Professional package: 276 860 , - instead of HUF 237,490 now in action , - Ft
( In addition to containing a large alapcsomagon tárolókoffert , a 2x2 adapter cable , an adapter cable for VW LT , and terminating an optical bus module. )
The prices given here are gross prices , that is included in the value-added tax ( VAT) !
Auto Repair Services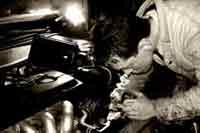 AUTO M3
Established in 2005, independent brand car service, passenger and light commercial
vehicle repair and maintenance
pouches, fleet management deals. READ MORE

FLEET MANAGEMENT
Fleet management, full administration.
- Commercial and passenger vehicles
- Servicing, purchasing,
- Record sales. READ MORE
Read More